Christmas is approaching and with it the moment of exchange of gifts will come. Finding the right thought for the people we care about is not easy. In fact, when one has to give a gift, one always thinks to be wrong, not to choose the right thing and, therefore, not to make those who receive it happy.
With a jewel you are never wrong, especially if a woman will receive a gift! These objects enchant for their beauty, their colours and their brightness. They are precious, so they have a lasting value over time, and are particularly appreciated because they are able to enhance the feminine beauty, and to give a more glamorous touch to all outfits.
Do you want to make Christmas gifts 2018 that really amaze you? You can choose one of the magnificent Les Creations jewels!
In our boutique in via Crescenzio 43 and on our online store, you will find beautiful gift ideas for friends, co-workers and relatives, or precious gifts perfect for your girlfriend or your wife.
Rings, earrings, necklaces, pendants, you'll be spoiled for choice at Les Creations!
But let's see what the trendiest gift ideas for Christmas 2018 are.
Among the perfect gifts there are obviously jewels embellished with red stones such as garnet or the charming ruby.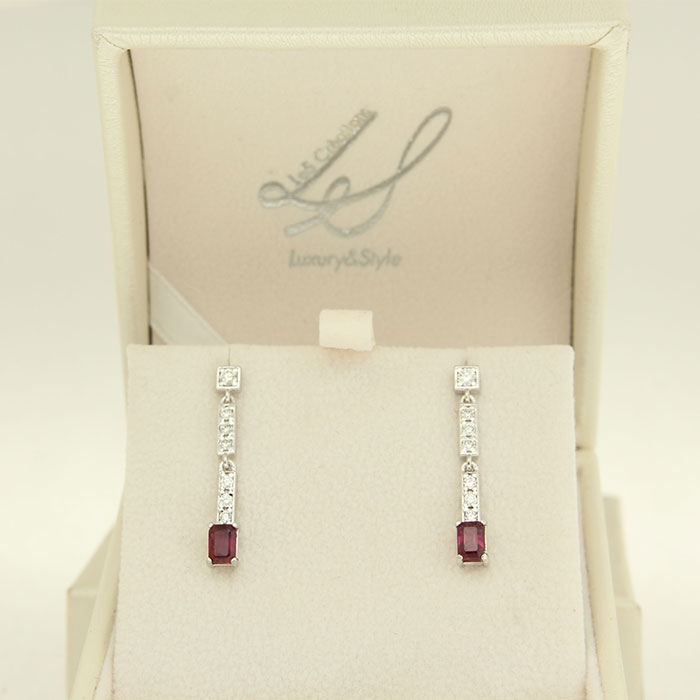 Among our proposals are the pendants Infinity Pendant and Point Pendant. The former is available in white gold and yellow gold, while the latter is available in white gold. The chains can be made in different lengths, according to the needs, and are included in the price.
Point Pendant earrings, also in white gold with rubies, can also be combined with Point Pendant.
Infinity Pendant can be combined with Infinity Earrings, available in white, yellow or rose gold 18kt.
Among the rings, however, we point out the Hug Ring, in yellow gold with garnet, and the Twin Ring, in white gold or in platinum with rubies, diamonds or sapphires.
At Christmas, the family is definitely at the center of everyone's thoughts, what better opportunity to give the Family Ring to our beloved? A ring made of gold or platinum, entirely tailor-made, where you can insert symbols, dates, initials, a truly unique creation that embodies the history of the family.
Always talking about the most popular shades at Christmas, one of the most beautiful colors of the festive period, which of course can be worn all year round, is blue. For lovers of this intense and regal-looking color, our collection offers jewels embellished with beautiful blue sapphire.
It is possible to find it on the rings Martin Ring or Kiss Ring, creation in white gold or platinum surmounted by two stones. By choosing this jewel you can also decide to alternate the sapphire with a different stone of your choice, as you can see in the picture next to it or choose the version of the ring with two sapphires.
Also on the Snake Ring it is possible to embed a blue sapphire. The stone will shine wonderfully on the yellow or white gold, the metals that can be chosen for the creation of the ring. In addition, the snake-shaped lines are full of charm and hide interesting symbolisms, which you can read by clicking here.
If you want to go on another kind of jewels, you can bet on pearls. Their elegance and refinement are always in fashion, even at Christmas. Among the precious with pearls most appreciated by women there are certainly earrings. Here we present the beautiful Paradise Earrings, made of 18kt white gold with diamonds and pearls measuring 9mm in diameter, and the Josephine Earrings, long earrings with a total of 14 diamonds and Australian pearls measuring 12mm in diameter.
Another interesting idea to make some Christmas presents of great effect is to give a precious dedication to a loved one. To do this, simply choose the Premium White Paper Ring or the White Paper Pendant.
The first is a ring that can be made in silver, white gold, or yellow gold, available with a large or smaller band, on which it is possible to engrave an important quote, a sentence, or a personal dedication, both on the inside of the jewel and on the external.
The second is a pendant made of silver or 18kt gold that leaves ample space for aphorisms, or dedications that can be engraved inside and outside the jewel. In both cases it is also possible to choose the engraving font, to give a more personal touch to the creation.
Another gift of sure effect is a jewel on which stands a birthstone lucky charm. If you want to find out which is the most suitable stone to give to the person dear to you, read our table of birth stones, with their particular meanings.
These are just some ideas for Christmas gifts 2018. Contact us or visit us in our goldsmith workshop in Rome to discover many other precious gift ideas and the different options for customizing jewels, including the possibility of creating a completely personalized jewel start from your drawing or draft on paper.
Hurry up, though! Christmas is approaching and creating a personalized handmade jewel takes time!
Contact us now!