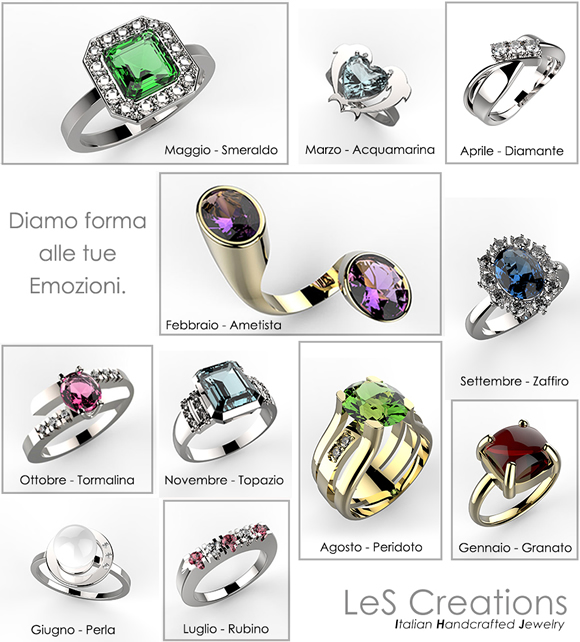 The stones have always represented an important symbolic meaning, which can also be higher than their aesthetic and economic value.
The habit of wearing the stones, with particular reference to the month of birth, also known as lucky stones or birthstones, originated in Poland in the fifteenth century.
These gems, however, originated from the breastplate of Aaron, known as the "breastplate of judgment."
The Jewish priests wore it in religious ceremonies. It had 12 gems of the twelve tribes of Israel, and also representing the 12 Zodiac signs and the 12 months of the year.
The first contemporary age list was written in 1912 by the Jewellers of America, then recently reworked by the AGTA , the American Gem Trade Association.
You can choose the stone of the month, or lucky stone, on the occasion of a birthday, an anniversary or any other significant event.
A Stone for each Birth Month or Birthstone.
Discover Your Lucky Stone and His Meaning in the table below.
Month
Stone
Meaning
January
Garnet
It helps to discover their potential and away the fears.
February
Amethyst
It strengthens friendships . It promotes concentration and the will to fight . It protects the house.
March
Aquamarine
It gives courage , transmits serenity and facilitates dialogue.
It became a talisman of love and family.
April
Diamond
Symbol of Purity, love.
May
Emerald
It gives wisdom, improves eyesight.
June
Alexandrite, Pearl
Alexandrite: Strengthens intuition.Pearl: Protection and serenity. It attracts money and promotes economic prosperity.
July
Ruby
Passion , long life.
August
Peridot
Availability, security.
September
Sapphire
Peace , wisdom and joy.
October
Opal,Tourmaline
Opal: beauty, success and luck.Tourmaline: strengthens rationality . It clarifies the internal blocks and leads to introspection.
November
Citrine,Topaz
Citrine: prosperity , it is helping them realize their dreams.Topaz: the nobility , strengthens the ' sincere friendship and gives peace of mind
December
Tanzanite, Turquoise
Tanzanite: confidence , stimulates thoughts practical and pragmatic.Turquoise: increases wellbeing.
In the past, the ancients wore every month a different gem and even today many people think that the powers of the stones can be stronger  in their birth month.
Gemstones admirers will now definitely good reasons to buy the entire collection of gems and wear them all over the year.
You just need to have imagination and decide which stone to collect: you want to recall the month of marriage, that of your engagement or that of the first meeting? Or one for any occasion!
Discover our creations