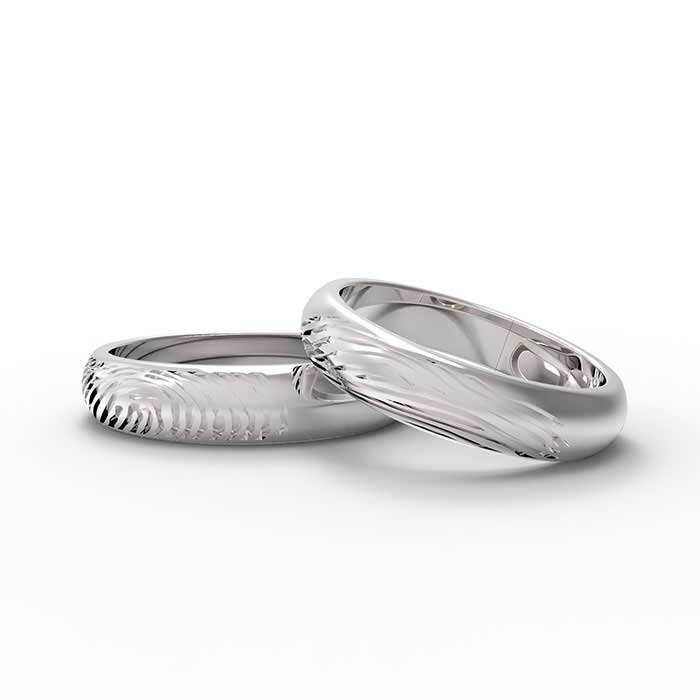 Wedding rings are an evident and tangible symbol of a marriage. After the wedding ceremony, after the "yes, I do", when the party ends, the ring becomes the only visible emblem of the union of two lovers.
The ring is the object to accompany the couple at every moment of their shared life: when at the office, when on holiday, when at home it is there to show the strength of an eternal bond.
Wedding rings in history
Since ancient times people have felt the need to use an object for symbolizing their union; some civilizations used to get wooden rings, while others preferred to use metal jewels. The ancient Romans started differentiating the engagement ring, called "anulus pronubus", from the wedding ring, a mix of different metals like iron, silver and gold. Right over the ancient Rome it comes the custom of wearing the wedding ring at the ring finger: at that time it was thought that the "vena amoris" – love vein- might have ran through that finger and that it was linked to the heart, while it was only in the 1700s that people started engraving names and wedding dates within the ring.
After many centuries, the wedding rings are still essential and choosing them means to live one of the most important moments in everyone's life.
Nowadays the bride and groom to be have the chance to buy not only yellow gold rings, but also platinum, white gold or rose gold rings and to choose between lots of decorations and types of trim. Furthermore, nowadays it is possible to engrave not only the internal but also the external part of the ring with symbols, images, different alphabets or fonts or even our own calligraphy.
If you're going to get married and you're looking for lovely charming wedding rings, go and find out our precious creations in our store in the amazing Rome, in Via Crescenzio 43, or on our Online Store. If you live out outside of Rome or you can't come to our jewelry, you can order your rings safely!
In each specific item web page you'll find the options for customization: once ordered, at the and of manufacturing, we will deliver the rings at the designated address, through a traced shipment insured at 100% of the product value, which is for free in Italy!
If you want your rings to be even more exclusive, you can design them yourself! Send us your draft, (click there), or come to our store to tell us your story and we'll help you transforming your dream in a precious reality.
For further information, don't hesitate to contact us!
↓ Here are some of our wedding rings ↓