Children love to draw and color. These are activities that allow them to free their fantasies about the world around them, about their loved ones or their daily experiences and discoveries.
Transforming children's drawings into jewelry is an art capable of setting unique emotions in a precious and long-lasting object.

Every time someone enters our goldsmith workshop in Rome, or sends us a message through our website, asking us to make a jewel from a child's drawing, it is an immense joy for us. This is because we know that, beyond the economic value of the jewel, that object takes on a much greater importance, of an emotional kind, and will make a whole family happy. Their emotion often shines through their eyes. We warn you when they tell us about the jewel they have in mind, and then when they pick up the finished product.
HOW TO TRANSFORM CHILDREN'S DROWINGS IN JEWELRY?
Today we present a whole new way to enhance the designs of your children and that, moreover, will allow you to always take them with you! Thanks to our experience in the goldsmith's art, in fact, we can transform children's drawings into fantastic jewels, faithful to their creations. LeS Creations we really care about the creativity of your children, so we created the Children Drawing Pendant.
You have only to take one of their drawings and take it to our goldsmith workshop in Rome, via Crescenzio 43, or send it to us at info@lescreations.it, or through this page (click here), giving us indications on the characteristics and the value of the jewel you wish. You can tell us the type of metal to be used (gold, silver or platinum), its size and choose to engrave phrases or symbols on it. We'll take care of the rest!
In constant contact, via email or whatsapp, or in our Rome workplace, we will show you the project and, when you have approved it, we will transform it into a beautiful jewel that you can always carry with you, or that you can give to your children, who will surely be happy to wear one of their own creations.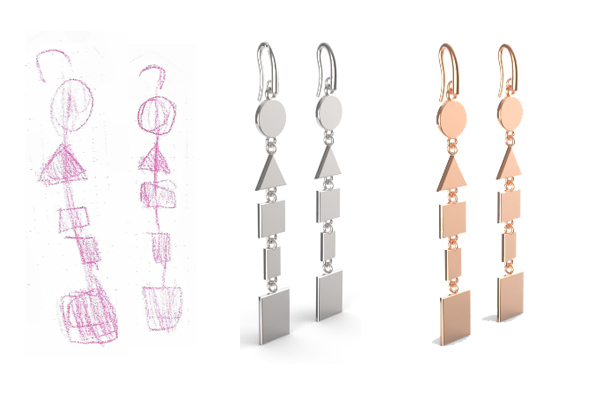 If you do not live in Rome, do not worry, because we will send the jewel to the address indicated by an express courier delivery for 100% of the value of the product and free throughout Italy.
To request more information, contact us using the contact details on the contact page.