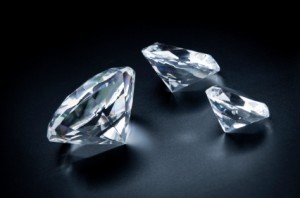 Are the object of desire of all women, rings, bracelets or necklaces, diamonds have always been a symbol of class, wealth, sophistication and elegance.
We manufacture fully customized diamond jewelry.
It's possible to build a completely custom jewelry, starting from diamond selection, to make your creation even more unique.
In addition to loose diamonds of different carats,starting from small stones for build pave, you can select diamonds certified by the most established and recognized laboratories in the world: GIA, HRD, IGI.
For stones greater than 0.15 ct and in general for gems of particular importance, effective and affective, we recommend choosing stones certified by international certification bodies.
Each diamond is scientifically analyzed by several gemologists who, with their experience and use of cutting-edge equipment, provide an accurate description of the characteristics of the diamond and the quality of the cut. With this detailed information, presented in an easily understandable language, you can fully appreciate the different characteristics of a diamond.
It 'also possible to buy only the gemstone selected, as a gift or for a safe investment.
We are always happy to follow you with tips and advice in the choice of the stone suitable for your needs. Below are all the information relating to the certifications and if you want to know more about 4C of diamond, click our "Guide to the selection of diamonds."
Want to know more?
Read our guide to choosing your diamond
GIA certificate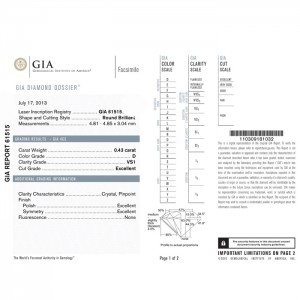 The Gemological Institute of American (GIA) was established in 1931 in Los Angeles. The GIA created and introduced the international grading system. Its head office is still in Los Angeles.
GIA is the story of the guarantee certificate of the diamond since in 1931 he created the rules for the certification and the color scale now used by all laboratories in the world. A GIA certificate is a guarantee of investment in time, thanks to a laser engraving on the stone with a serial number that uniquely identifies the diamond and relative certificate.
The GIA certificates representing the highest standards of reliability and professionalism. From July 2010 GIA provides an additional level of security, allowing you to confirm online quickly and cost effectively that the information on your certificate match what is stored in the database international GIA.
IGI certified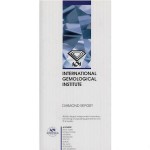 The International Gemological Institute (IGI) is the oldest institution of its kind in Antwerp.
Established in 1975, has offices in New York, Bangkok, Mumbai and Tokyo.
The IGI certificate is essentially a report attesting to the authenticity of a diamond and provides accurate and reliable informations on its identity and level of purity, based on a metodology universally recognized.
Regardless of location or market, a real laboratory IGI certificate is the common language of trust in the world of gemologists.
With multiple locations across the globe than any other laboratory, IGI is the most widely used certification body for certification of diamonds.